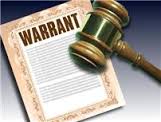 There are several reasons why a person may have an open warrant. One of the common reasons we see someone with an open warrant for is a Motion to Revoke. For a Motion to Revoke, a probation officer will send a request to the DA's office informing them of the violating of probation that have been occurring and requesting the probation be revoked. The DA then drafts a Motion to Revoke or Motion to Adjudicate if the person has been on deferred adjudication. A judge will then sign the warrant,usually with no bond set.
Another reason why someone may have an open warrant is if they were not initially arrested for an offense. Sometimes a police report is sent to the DA's office without actually arresting someone. If the District Attorney decides there is enough evidence to pursue the case, they will send the case to the Grand Jury for indictment or file a case by information. After this is done, a warrant will be issued for a defendant.
If you or someone you know has an open warrant, there are a few options available to take care of it. It is very important to take care of the warrant as soon as you become aware of it. If there is no bond set, a judge can be approached to request that a bond be set. This will allow the person to be able to post bail in cases where there is no bond set. If there is a bond set, Bexar County has a walk through satellite office located at the Bexar County Courthouse. This allows someone to be booked and bonded out much more quickly than going through a regular arrest. Contact our office immediately if you believe you may have an open warrant so that we can advise you on the next steps to take. The worst thing a person can do when there is an open warrant is attempt to ignore the issue.